The Tradition and Creativity of 2016 Jiangxi Open ...
Hits:
Release Time:2016-08-03 13:39:00
Taking advantage of Jingdezhen Ceramics, the most influential name card from Jiangxi, porcelain was used to design and shape the trophies for the Jiangxi Open. It presents the miracle of Kiln fire and the ingenious China tradition ceramic process, and fully demonstrates the charm of tennis as a global sport. Here in Jiangxi, the use of ceramics and tennis were successfully integrated the spirit of craftsmanship and sports.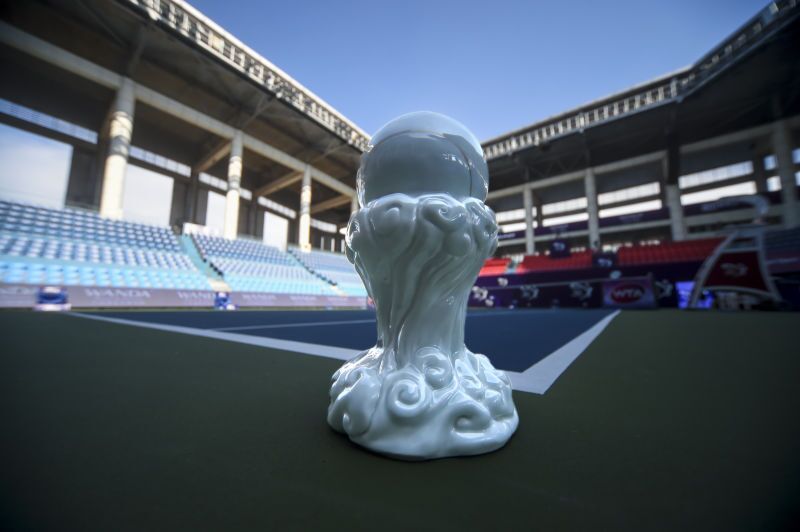 Champion's Trophy: It is designed and created by Li Zhenhua, an academicism sculpture artist. The trophy has not only the integration of ceramics arts and sports spirit, but also the perfect combination of traditional ceramics processes and modern arts. The trophy uses traditional porcelain carving technique, curving the base of the trophy and the 3D cloud decoration of the body. The top of the trophy is hand-made to a tennis ball shape, representing the importance of the sport and the tournament. The whole designs contain the traditional Chinese auspicious sign culture.
After finishing the very basic design and modeling before kiln feeding, the trophies were processed with drying and glazing techniques and ready to be clinkering. With a 1300-degree Celsius high temperature kiln fire slowly shaping, and altogether with the atmosphere of the kiln and surrounding weathers, the trophies are finally shaped. The cover of shadowy blue glazed surface can be traced by to Song Dynasty, the enamel is elegant and bright, showing a light green and white gloss. The top ball part also used the old gold repair process. It was originally used for repairing porcelain, and using that process for the production of the trophy is both taking the meaning of "doing good" in gold repairing, and paying tribute to persistence that demonstrate the unstopped athletics sports spirit: never give up, take the challenge to reach the peak.
The runner-up's trophy: It uses the jade texture porcelain plate as the basic model of the trophy, using Jingdezhen's high-quality porcelain clay for molding, and taking the traditional blue and white color to draw the pattern. The shape and lines decoration of the trophy is unique, with repeated kiln fire heating, it keeps a clear and bright color.
The design of the trophies is brief and grand, but also very meaningful. It is also a great integration of tradition and creativity, ceramics techniques and athletics, representing the characteristics and glamour of the Jiangxi culture. After the Jiangxi Open's finals, the language of porcelain will leave a good impression of Jiangxi.