Hantuchova Lost in First Round
Hits:
Release Time:2016-08-03 15:11:00
Nanchang, Jiangxi, China – The first match on Center Court is between Daniela Hantuchova, who used to rank No.5 in the world and Lu Jia-Jing, a wildcard Chinese player from Liaoning Province. With a long rally in 2 hours and 47 minutes, Lu upset Hantuchova with 5:7 6:4 7:5.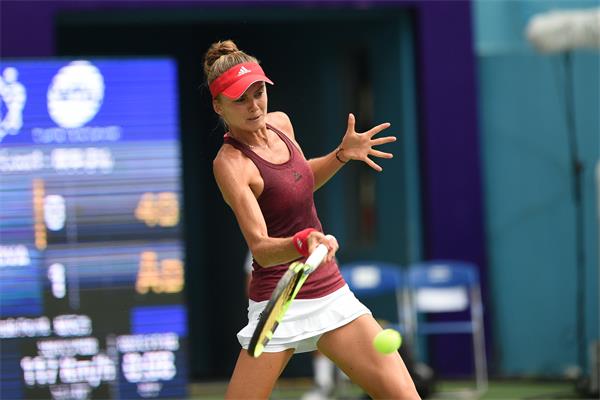 The temperature decline and strong wind affected the match on Center Court. Lu was a bit nervous facing Hantochova during the first set. She had several fault during serving. Hantochova won the first game in just 2 minutes, and she was leading by 3:0 in only 12 minutes. After that, Lu was trying to improve her serving and had several forehand straight drive winners. It is bad for Lu to have 6 double faults during the first six games in the first set, and her second point won was less than 50%, with an even worse first serve won.
The luck was on Lu's side. Hantuchova was a bit loosened with the 3:0 advantage, and Lu was receiving on-court coaching from her Belgian coach and got back her status and the score came to 5:5! Lu's forehand brought a lot of trouble for Hantuchova, and her excellent running and stable baseline performance made it possible for an overturn. Lu's continuous forehand strokes made Hantuchova unable to return. But at the end of the set, Hantuchova saved her game with 2 Aces, and won the set 7:5.
When second set started, Lu started to dominate the court and she won the break point in first game of the second set. Hantuchova's unforced errors become her nightmare. By successfully controlled her serving faults, Lu become more aggressive. Hantuchova's first serve is still a big threaten but Lu's persistence allowed her to catch up and find the opportunities to score or wait for her opponent's errors. Lu's strategy worked pretty well in the second set, and she won the set 6:4 and make it to 1-set all.
In the final set, Lu changed a new set of clothes. Although Hantuchova broke Lu's serving game and made it to 3:0, Lu was quickly caught up and the score came to 4:4. Both Lu and Hantuchova were breaking each other's serving game and Hantuchova was playing pretty well and she seemed to be finishing the match.
However, her double fault ruined her match. Lu was successfully breaking Hantuchova's game and in the last game, Hantuchova was influenced by her moon and made several errors. Lu took the game in straight and to close out the match.