Jiangxi Open - Day 3 competition been intenser
Hits:
Release Time:2016-08-04 13:53:00
Nanchang, Jiangxi, China – It is Day 3 today for the Jiangxi Open. Although the thunderstorm interrupted the matches, the tournament organizer's risk management ensures the smooth operation of the tournament. The upgraded Jiangxi Open demonstrated a well organizing capability.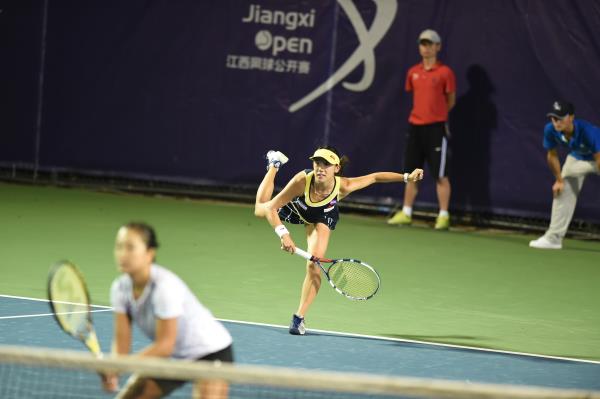 Seeded players in both singles and doubles events are doing well, and their opponents didn't bring much trouble for them, and only one seeded player was eliminated. In singles, Zhang Kai-Lin, the No.5 seed and the highest ranking Chinese player of the tournament, defeated Miyu Kato of Japan in straight sets, 6:4, 7:5. The Wuhan girl took a strong step to her target of receiving the China Open wild card. The No.2 seed Kurumi Nara's match was suspended yesterday. In today's rescheduled match, she was fighting hard. Tereza Mrdeza of Croatia chased the score to 5:5 in second set, but still couldn't make it, losing the match 3:6, 5:7. The Japanese secured a spot in second round.
The last match between Francesco Schiavone and Lu Jia-Jing attracted many spectators. Upsetting Daniela Hantuchova in first round, Lu tried to repeat the success. She took the first set in 6:4, and that created some barrier for Schiavone's advancing. The veteran's experience was the key to the match, Lu demonstrated her persistence during the last two sets, but she was a bit weak with deciding points. Schiavone broke her games in beginning of the set, Lu was chasing hard but didn't get it back. Finally, Schiavone won the last two sets, overturned the match by 2 sets to 1.
The Asian-American player Vania King faced qualifier Zhang Ying. The Chinese made it to main draw trough qualifying, and her stamina was challenged by the hot weather in Nanchang. King got to wait at the exhausted Zhang, winning the match 6:4, 6:2. The match for Risa Ozaki is even easier: Thai qualifier Nicha Lertpitaksinchai participated in both singles and doubles events. While facing the No.7 Seed, she was like a spent arrow, losing the first set 0:6 and the second set 3:6.
In doubles, second-seeded Shuko Aoyama and Makoto Ninomiya's match was also suspended due to rain. The team played two matches for today: in the rescheduled match, they defeated their opponents, 7:6 (4) 6:3. In the quarter-final, they spent only 49 minutes, defeating the Chinese wildcards Sun Ziyue and Zhu Ai Wen by 6:2, 6:1.
The other Chinese team, Lu Jing-Jing and Liang Chen spent 1 hour and 4 minutes, defeating the No.4 seed from Japan, Miyu Kato/ Kurumi Nara. Kato played two matches tonight, losing to Zhang Kai-Lin in singles, and was eliminated from the tournament.