Jiangxi Open Interrupted Again Due to Rain
Hits:
Release Time:2016-08-05 14:40:00
Nanchang, Jiangxi, China – The Day 4 of 2016 Jiangxi Open was interrupted due to rain and that challenges the tournament organizer's contingency management. The eighth-seeded Han Xinyun was overturned by Duan Ying-Ying with 3:6, 6:4, 6:2. Liu Fangzhou of China made her first quarter-final in WTA tour, defeating Jang Su Jeong of South Korea.
After 3 years and playing against with Han, Duan felt both familiar and odd. "We used to practice together and know each other well. But after our last meeting in Sanya, we have never encountered," Duan said. Not fully recovering from the ankle injury, Duan didn't have strong serving recently and that created some trouble for her. In first set, Han was playing quite well. The left-hander had a dominating serving advantage by nature, and her excellent moving and strong backhand challenged Duan. "Her (Han's) left-handed ball was unpredictable, but the back hand could be quite strong some time, which made it very difficult for me." The No.8 Seed won the first set by 6:3.
However, both players were having their own characteristics and with the match processed, Duan took advantage of her height, changing her strategy and playing style to overturn the match. "My coach told me on-court to reduce returning the ball by just standing there and waiting. To be more aggressive, that is good. It brought back the rhythm for me and I was more patient in long rallies to get it back on the right track." After winning the second set in 6:4, Duan adapted Han's left-handed playing and she took the final set in 6:4 and eliminated the No.8 seed.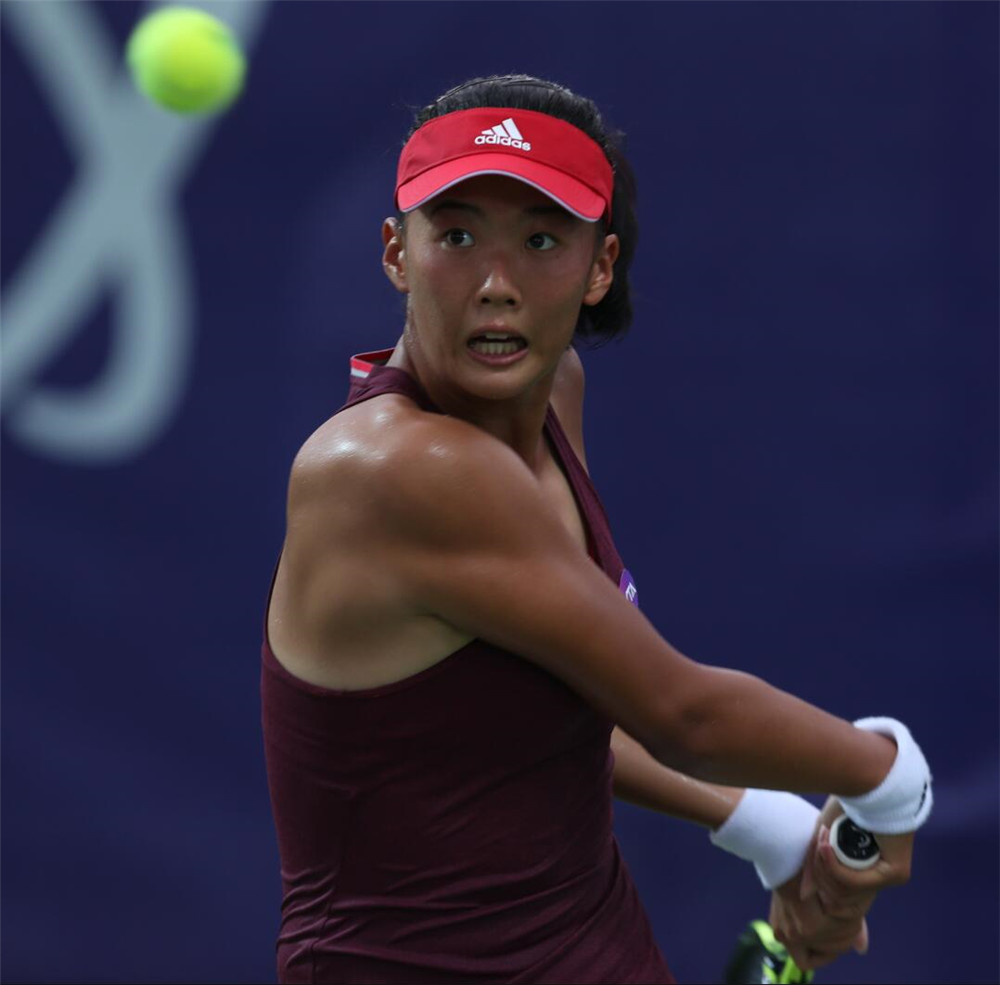 In another singles match at the same time, the 2014 runner-up Liu Fangzhou defeated Jang Su Jeong in a clinical 6:4 6:2 victory. After the match, Liu mentioned that the process was a lot more tough comparing to the result. "It was not that hot today but still very humid. I used 5-6 towels to wipe perspiration. Korea players are always in a defensive playing style with good move and persistence. So I have to move together with her and be very concentrated."
Having been positioned in the bottom half where there are more players from Japan and South Korea, Liu and her coach were fully prepared before matches and set up corresponding strategy. The result of the match showed her implementation of the plan: "I am familiar with my opponent's style and strategy, so I have an effective plan to deal with it. Trying to be quick, being more positive and aggressive and reducing the chances of too much moving for her. It feels great to win the match, and I am glad to see my plan worked."
Liu is set to face Misa Eguchi of Japan in quarter-final. Eguchi came through against Zhu Lin 6:4, 6:2. Duan's opponent in quarter-final will be the winner of Chinese Tapei's Chang Kai-Chen and the No.2 Seed, Kurumi Nara.