2017 Jiangxi Open Boy Selection Launch Ceremony
Hits:
Release Time:2017-06-03 15:07:00
2017 Jiangxi Open Tennis Boy Selection Activity and
The Launching Ceremony of Jiangxi Tennis Youth Growth and Exchange Program Grand Opening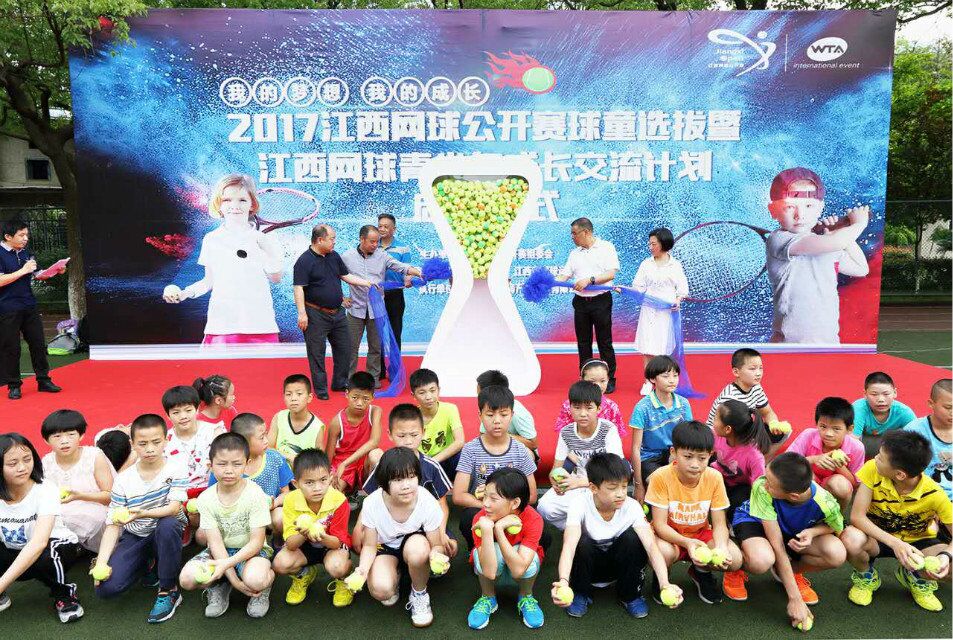 On June 3rd, the 2017 Jiangxi Open Tennis Tournament caddie selection activity and the launch ceremony of the Jiangxi Tennis Youth Growth Exchange Plan were grandly opened at Jiangxi Provincial Sports School. Leaders and guests from the Provincial Sports Bureau, Provincial Sports School, Provincial Tennis Management Center, Jiangxi University of Finance and Economics Sports College, and Jiangxi Sports Development Co., Ltd., as well as children participating in the caddie audition, attended the launch ceremony.

At the launch ceremony, Yang Wenshu, the outstanding caddy representative of the 2016 Jiangxi Open, from Nanchang 18th Middle School, delivered her own speech. She stated that becoming a sacred Jiangwang caddy is the best learning opportunity to watch matches up close at home and meet international superstars, as well as the best channel for self cultivation and growth. At the launch ceremony, the Nanchang Honggutan Experimental School and Ganzhou Tennis Association Youth Tennis Training Center were also awarded medals for the targeted campus of this audition. The next step of the caddie audition will be fully carried out in Nanchang and Ganzhou as planned.

The slogan of the 2017 Jiangxi Open Tennis Boy Selection Campaign is: My Dream, My Growth! As the prelude to the Jiangxi Open Tennis Tournament, it will better promote tennis culture, competition knowledge, and observation etiquette for the competition, and promote the exchange and growth of teenagers and children in our province; This selection activity was prepared from May to the end of July. Through multiple stages such as online registration auditions, preliminary matches, semi-finals, and training, 60 top caddies were selected from the vast number of young children in the province to serve the 2017 Jiangxi Open Tennis Tournament and undergo the test of the competition. The selected caddies not only have comprehensive access to tennis knowledge, rules, and observation etiquette, but also receive professional training from national caddie trainers in tennis knowledge, services, English speaking, team collaboration, and other aspects. Through the process of layer by layer selection, children can experience the experience of growth and the important educational functions brought by sports.

The online registration channel for this Jiangwang caddy selection activity is the official WeChat account "2017 Jiangxi Open Tennis" or "Dynamic Special League". All selection procedures and self-study tutorials have been announced, and the progress of Jiangwang caddy selection will also be announced through the official WeChat account at any time.
The 2017 Jiangxi Open Tennis Tournament will be held from July 24th to 30th at the Nanchang International Sports Center. The event will be hosted by the Jiangxi Provincial People's Government, hosted by the Jiangxi Provincial Sports Bureau, Nanchang Municipal People's Government, and the China Tennis Association. The total prize money for the competition is 250000 US dollars, with 280 championship points. About 60 players from nearly 20 countries and regions will participate.